This is Three Gables boutique villa
A luxurious retreat in a
tropical paradise
Tucked away in the southern coast of Sri Lanka, Three Gables Boutique Villa & Design Hotel is a secluded beachfront property that invites you to experience the tropical lifestyle in a serene environment. Unwind in one of the villa's four lavish rooms and soak in the views of the magnificent ocean. Enjoy the idyllic seaside holiday with hospitality at your doorstep.
Three Gables Boutique Villa
Indulge in the tranquillity of the tropics in heart of Mirissa
At Three Gables, we are well adept at ensuring that you have a hassle free holiday and an unforgettable experience.
Step into a world of luxury and comfort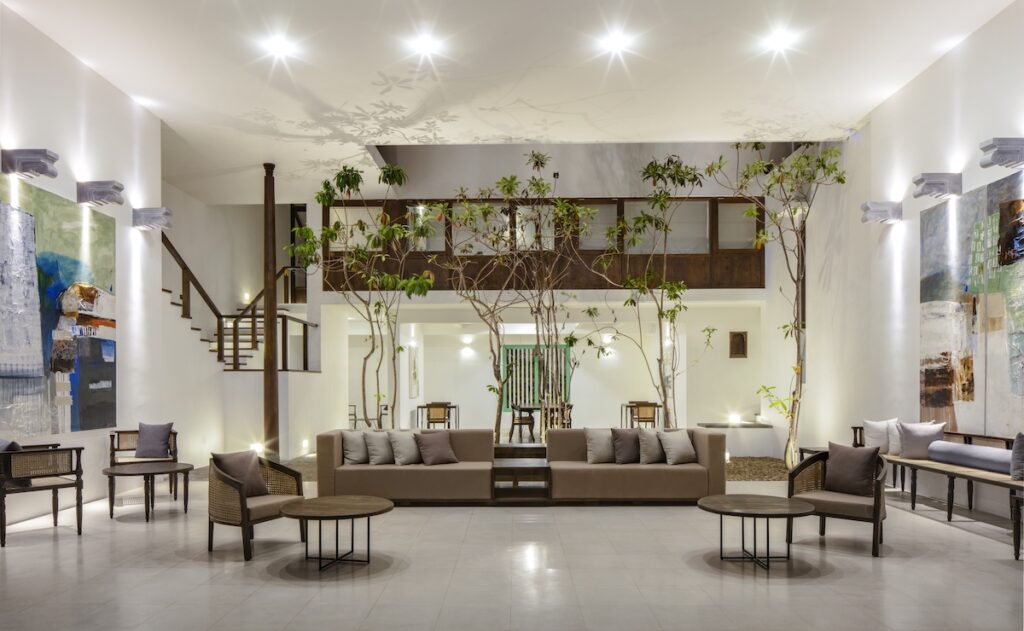 Experience the best of Sri Lanka
Three Gables Boutique Villa & Design Hotel is in close proximity to some of the finest tourist attractions in Sri Lanka. You can set sail at dawn to get a glimpse of the majestic blue whale. Or jump into a safari jeep for an exciting wildlife adventure. For a more laidback expedition, explore the cobbled streets of the historic Galle Fort while basking in the island's vibrant sunsets. A holiday in Mirissa is guaranteed to give you an overall experience of Sri Lanka's most popular attractions.
A secret escape catering to
your every need
The villa comprises of two Deluxe Beach View Rooms and two Premier Ocean View rooms positioned across two separate wings at different elevations. Each room is equipped with a private balcony offering spectacular views of the ocean. All rooms are contemporarily designed and furnished with rustic interiors creating an ambience of the utmost luxury and comfort. A getaway in any one of our rooms promises a holiday of unprecedented proportions making Three Gables one of the best luxury accommodations in Mirissa.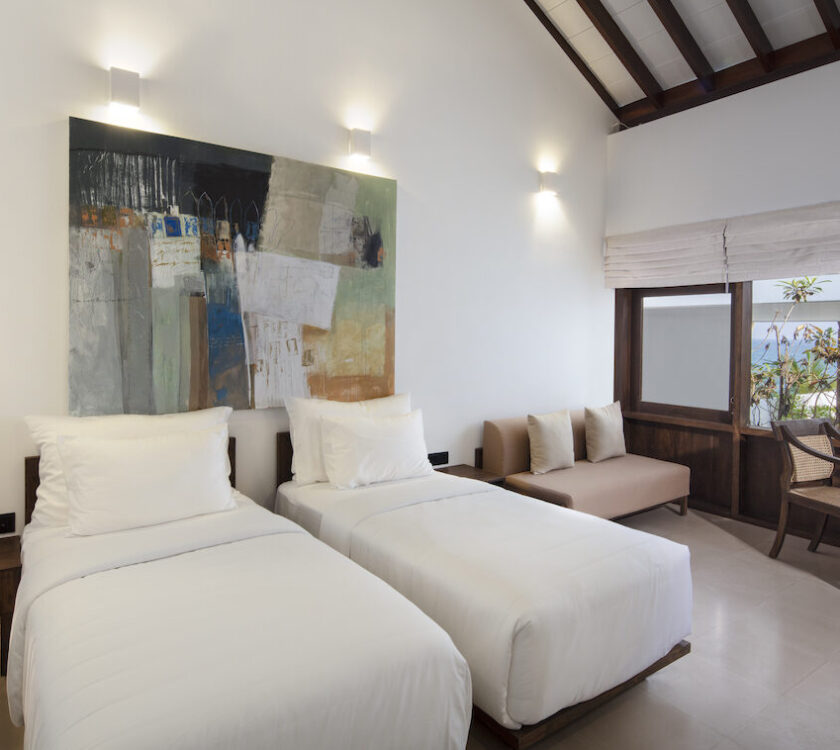 Three Gables Boutique Villa Indulge in the tranquillity of the tropics in heart of Mirissa Positioned at a lower elevation in the beach wing, the deluxe twin room is spacious and h
Three Gables Boutique Villa Indulge in the tranquillity of the tropics in heart of Mirissa Positioned at a lower elevation in the beach wing, the deluxe twin room is spacious and h
Three Gables Boutique Villa Indulge in the tranquillity of the tropics in heart of Mirissa Positioned at a lower elevation, the deluxe king room is spacious and has a stunning view
Create memories that last forever
Unglaubliche Villa und Erstklassiges Personal! ☺Die Unterkunft ist einfach einzigartig! Ein wunderschönes Strandhaus mit 4 Zimmer und einem exklusiven Service! Es wir einem der I Dach jeder Wunsch erfüllt! Das Personal ist unglaublich freundlich und herzlich. Das Zimmer wurde mehrmals am Tag gereinigt. Sauberkeit wird hier ganz groß geschrieben. Wir können jedem nur empfehlen das Essen in der Villa zu probieren! Hier sind unglaubliche Köche die einem Speisen der extra Klasse zubereiten! Das war der schönste Aufenthalt den wir jemals bei einer Reise erlebt haben! Danke an das gesamte Team - wir sind sprachlos! ☹nichts!
הכל היה מושלם! ☺המקום ממש יפה, נמצא על החוף הצוות מקסים, אנשים אדיבים! ארוחת בוקר מושלמת מול הים הם לא הפסיקו לפנק ולדאוג שנרגיש בנוח ☹החסרון היחיד הוא המיקום שרחוק מהמרכז (לא מרחק הליכה)
Tolle Lage, gutes Design aber über den Jahreswechsel stimmt das Preis-Leistungsverhältnis nicht ganz ☺Lage an einem tollen Strandabschnitt, tolles Frühstück und auch alle anderen Speisen und Getränke waren sehr gut (preislich aber recht gehoben). Schönes Design der Villa (die nur 4 Zimmer hat). Nettes Personal. Flexible Frühstückszeiten waren toll. Wir haben eine Wahltour gemacht und unser Frühstück nach der Tour bekommen obwohl es fast mittags war. Kommen wir wieder? Ja, aber nicht für 500€ die Nacht (siehe unten). ☹Wir waren Ende Dezember/ Anfang Januar da und die Nacht hat ca 500€ gekostet. da erwartet man noch besseren (schnelleren) Service im Restaurant und z.B. auch, dass genug Liegen am Strand stehen und dass eine Ersatzrolle Klopapier bereit ist (auf Anfrage hat aber alles geklappt). Das Sylvesterbuffet schlug zusätzlich mit 75$ pro Person zu Buche. es war aber sehr gut und auch Cocktails waren inkludiert.
vous pouvez trouver bien mieux pour moins cher! hôtel mal conçu ☺les parties communes (piscine) et petit déjeuner! le personnel, comme l'intégralité des commentaires l'indique. est parfait! ☹c'est avec beaucoup de précaution que je dépose cet avis quand on lit tous les autres qui sont ultra positifs! hôtel avec 4 chambres donc très intimiste. 2 chambres disposent d'un balcon et sont sans doute tops. nous avons malheureusement réservé une des autres. elle se trouve juste au dessus de la réception avec des fenêtres qu'on ne peut à peine ouvrir et qui donnent sur les parties communes de la réception. impossible de voir de la chambre (petite) le ciel, elle est comme encastrée dans l'arrière de l'hôtel….à 320€ la nuitée, ça fait mal… SDB petite, très propre et jolie mais petite, sans crochets ou autres barres pour accrocher les serviettes humides qu'on ne sait où poser car chambre très petite. La plage n'est pas la plus belle des plages du sud et malheureusement pour l'hôtel, un énorme complexe hôtelier est en train d'être construit à 5min à pied de l'hôtel… pour autant, l'hôtel, flambant neuf, dispose de parties communes très belles (piscine notamment et la vue derrière sur la plage) et le personnel est au top (unanime ça aussi dans les autres commentaires). nous avons été très étonnés des commentaires si élogieux sur cet hôtel car nous imaginons que nous ne sommes pas les seules à voir réserver cette chambre… encore une fois c'est personnel mais ayant beaucoup voyagé, j'ai vu bien mieux pour un prix équivalent! clairement ça ne vaut pas les 330€ la nuit!
Das beste Hotel in ganz Sri Lanka ☺Dieses Hotel, das mit wenigen 4 Zimmer eigentlich gar keines ist, war ein Highlight und mit weitem Abstand das beste Hotel auf unserer Sri Lanka Reise. Nach kurzer Überlegung vielleicht sogar das beste Hotel, in dem wir je waren. Es wurde vor der Reise bereits ein Flughafen-Transfer zu einem fairen Preis organisiert. Nach freundlichem Empfang durften wir schon früher einchecken und das sehr saubere, schöne, stilvoll eingerichtete Zimmer bestaunen. Der Ausblick auf den Strand und den Sonnenuntergang war jeden Tag ein Highlight. Das Design des Hotels ist der Wahnsinn und weit weg vom Standard in Sri Lanka. Noch außergewöhnlicher war allerdings die Gastfreundschaft, die uns entgegengebracht wurde. Dinuka, der Hotelmanager, liest praktisch jeden Wunsch von den Augen ab und ist jederzeit hilfsbereit. Man merkt sofort, dass er seinen Job liebt und das seine große Leidenschaft ist. Er ist sehr gesprächig und erzählt viel über die Kultur und das Land. Aber nicht nur er, sondern alle Angestellten des Hotels sind höflich, zuvorkommend und sehr professionell. Wir haben ausschließlich im Hotel gegessen, da das Essen außergewöhnlich gut war. Es wird wirklich auf jeden Wunsch eingegangen. Von morgens bis abends wurden wir verwöhnt. Der Privatstrand ist sehr gepflegt. Es werden immer frische Handtücher und reichlich Wasser bereitgestellt. Teilweise wurde das Zimmer mehrfach am Tag gereinigt und wieder in Ordnung gebracht. Beim Abendessen habe ich in einem Nebensatz erwähnt, dass ich nachts noch ein Fußballspiel schauen möchte. Pünktlich zum Spiel kam plötzlich ein Angestellter und brachte Chips, Schokolade, Bier und Cola. Mehr Aufmerksamkeit geht nicht. An einem Abend hat man uns direkt in der Küche gezeigt, wie man ein typisch Sri Lankanisches Gericht zubereitet. Natürlich mit anschließender Verköstigung. Ich habe natürlich nicht jedes Hotel in Sri Lanka gesehen, aber ich bin mir sicher, dass dieses Hotel zu den aller besten gehört. Der Abschied fällt hier sehr schwer. ☹Absolut nichts, es war perfekt
great stay if you're looking to have a good time in SL- would 11/10 recommend ☺ the property was lovely- very well designed and modern and minimalistic, loved it!! the staff was also just amazing- so efficient and so gracious and accommodating, they offered us a complementary dinner and pampered us loads! Denuka dealt with us the most as well as Suresh and they were great! They even gave us a small gift upon departure which I will always cherish and use to remember the three gables family. 🙂 our room was also cleaned twice a day and we would come home to chocolates every night which was a very sweet gesture. they also upgraded our room as the guest had limited guests, something I also really appreciate! ☹ the water infront of the hotel is not swimmable, even though the beach is beautiful. however we were informed of this before our arrival and all the hotels we found didn't have swimmable water Infront of them and one had to go 100 m further or then to the public beach to swim..
☺Wir hatten einen wunderschönen Aufenthalt in der Three Gables Boutique Villa. Uns wurden die Wünsche von den Augen abgelesen und wir wären gerne noch länger geblieben. Das ganze Hotel (welches sich eher nach einer eigenen Strandvilla anfühlt) ist wunderschön gestaltet und die Mitarbeiter waren alle durchweg herzlich und super bemüht. Noch besonders zu erwähnen ist das Frühstück- das Beste auf unserer ganzen Reise 🙂 Wir würden jedem Sri Lanka reisenden empfehlen, hier zu buchen. Vielen Dank für diese wunderschönen und unvergesslichen Tage 🙂
Traumhafte sechs Tage, gerne wieder! ☺Die Lage und die Architektur des Hotels sind außergewöhnlich. Das Team von Dinuk und Suresh ist extrem zuvorkommend und sehr freundlich. Wir möchten uns ganz herzlich bedanken vor allem bei Suresh und Dinuk für die hervorragende Betreuung. Die beiden haben uns in jeder Lage bestens betreut und uns geholfen, weit über Belange des Hotelbetriebs hinaus. Das Essen ist richtig gut, und seinen höheren Preis wert. Danke, danke, danke und viel Erfolg für die Zukunft!
FOLLOW US
Find Us on Instagram and See Our Latest Posts