A luxurious retreat in a tropical paradise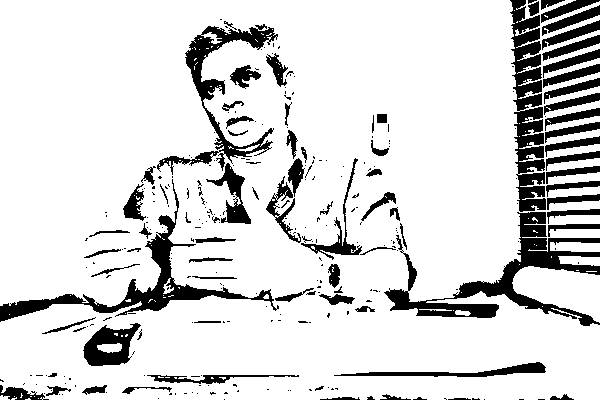 Conceptualized by renowned architect Vinod Jayasinghe, Three Gables Boutique Villa is a unique beachfront property that is built from the ground up to ensure your comfort and privacy. The last student of the legendary architect Geoffrey Bawa, Jayasinghe's distinctive design of the property emulates Bawa's ethos of seamlessly blending the opulent indoors with the exotic outdoors. The end result is a contemporarily designed boutique villa with spectacular views of the Indian Ocean
Comprising of four lavish rooms, an infinity pool and round the clock service, you are guaranteed a holiday of the utmost luxury and relaxation. All units are well-equipped with modern amenities enabling you to enjoy the tropical lifestyle from the comfort of your room.
In contrast to other luxury hotels in Mirissa, Three Gables is tucked away in a secluded stretch of the southern coast giving you the opportunity to reap the benefits of a hotel stay in a serene environment. While there are many beach front hotels in Mirissa, the villa's prime location, design and facilities offer an idyllic respite from the rigors of day to day life.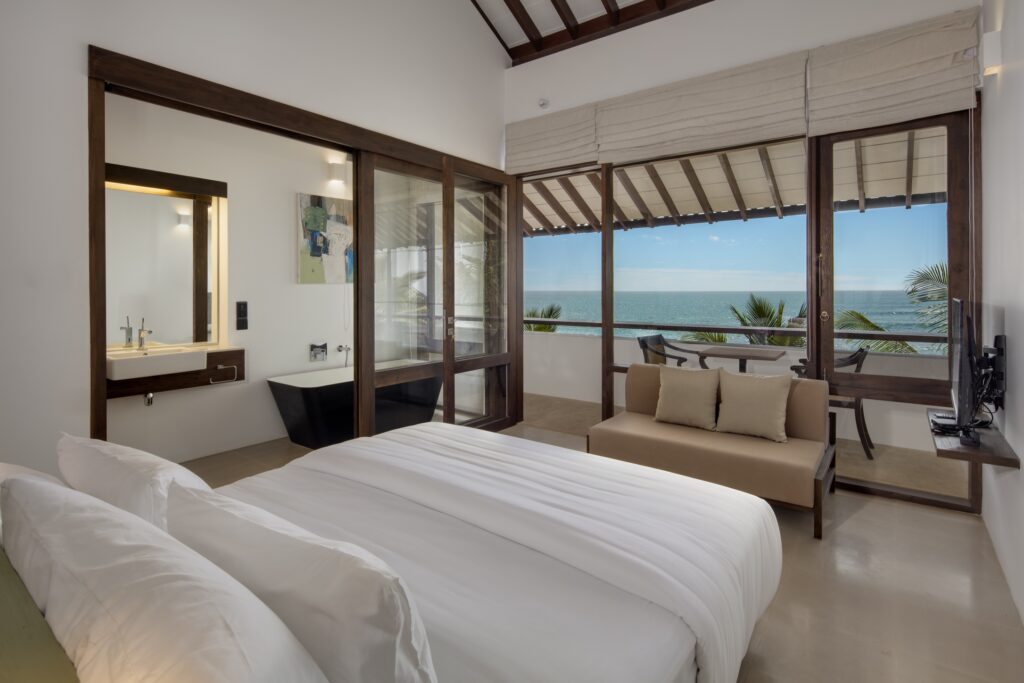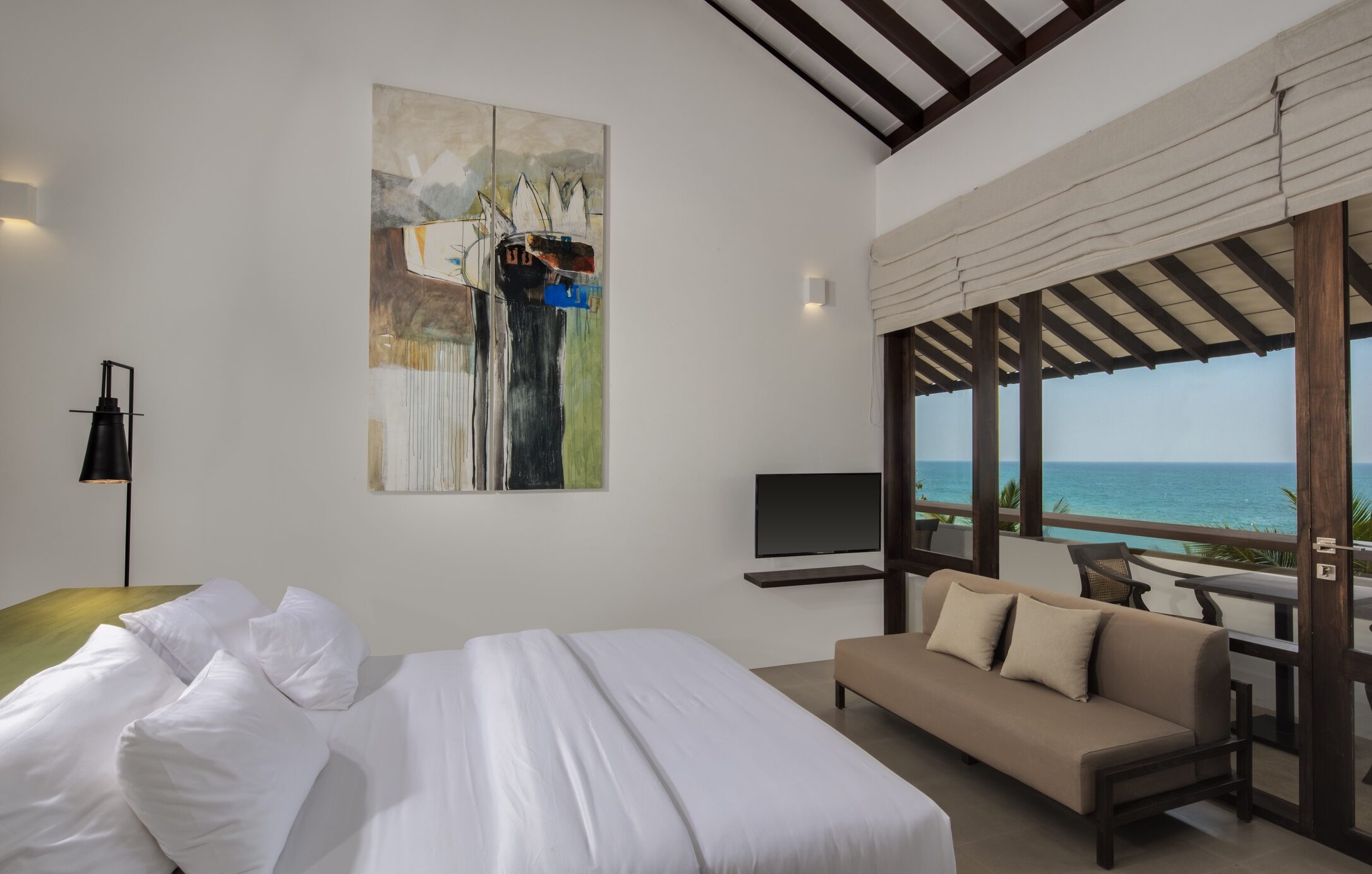 Top accommodatie met top personeel ☺- Prachtige architectuur, luxe uitstraling . – Zeer schoon, kamer wordt tussentijds schoongemaakt . – Heerlijk eten, zowel ontbijt als lunch en diner. Dinuka maakt van elk gerecht iets bijzonders. Vooral het diner op het strand ( incl. fakkels) is heel speciaal. – We kregen een gratis upgrade naar de mooiste kamer en konden op dag van vertrek later uitchecken. – Heel vriendelijk personeel, ze stralen gastvrijheid en werkplezier uit. Je wordt echt in de watten gelegd. Kortom: een heerlijke accommodatie om je Sri Lanka trip af te sluiten. ☹Geen
Serenity ☺ I had the most delightful stay at the Villa From the first moment, I was greeted with warmth and genuine hospitality. The attention to detail in every corner of the Villa was remarkable – from the tastefully decorated rooms to the serene garden views that greeted me every morning. The staff's impeccable service made me feel like a valued guest throughout my entire stay. I indulged in the exquisite cuisine at the villa's kitchen, where each dish was a masterpiece of flavors and presentation. Whether I was lounging by the pool or unwinding in the beach, I couldn't help but be enchanted by the luxurious amenities and tranquil ambiance. Three gables Villa truly exceeded my expectations and provided a haven of comfort and relaxation. This experience will undoubtedly be cherished as a memory of pure bliss and sophistication.
Erholsamer Strandurlaub im wohl schönsten Hotel in Sri Lanka ☺- kostenloses Upgrade auf Zimmer mit Meerblick, da wir alleine in der Villa waren – zuvorkommendes Personal – exklusiver Service – großer, sauberer Pool – leckeres, großzügiges Frühstück nach Wahl (die Speisen werden frisch und direkt durch den Küchenchef zubereitet), mit Liebe zum Details serviert – Personal war unaufdringlich und sehr freundlich, hat jeden Wunsch von den Lippen abgelesen – großzügiges Zimmer mit Badewanne und Dusche – zweimal am Tag Reinigung des Zimmers – schöner Strandbereich mit bequemen Liegen und Auflagen – jeden Tag gab es Wasser und Kokosnüsse am Strand – geeignet für Leute, die es gerne ruhig und exklusiv mögen – Abendessen a la carte hat sehr gut geschmeckt, die Speisen waren toll angerichtet – Personal hat bei allen Belangen geholfen und Tipps gegeben – das schönste Hotel in dem wir in Sri Lanka waren, wir würden jederzeit wiederkommen! 🧡 wir können es zu 100% weiterempfehlen! – danke an Dinuxkitchen aka Dinuka – the best cook ever!! 🧡🧡🧡 ☹Absolut nichts!
It is like nothing else ☺ Comfort. Simple as that. It has nothing to do with the size of the room nor the excellency of the view. It s all the details this facility offers that really defines modern luxuriousness. All the staff provide a top level service. The manager Dinuka is a treasure, the life and positivity that he brings for others transcends beyond words. ☹ Absolute Nothing
值得入住 ☺早餐和晚餐都非常美味 这里人员的服务额外让人惊艳 整体的装修简单大气 床非常舒适
Adembenemende luxe en topbediening op een absolute droomlocatie! ☺De ruimte op het gelijkvloers is een adembenemend sprookje: knappe architectuur met uitzicht op zwembad en één van de mooiste stranden van Sri Lanka. De ontvangst en bediening zijn op hetzelfde niveau: je wordt hier in de watten gelegd tot en met, geen enkele inspanning is te veel, alles is mogelijk. Dat kan ook, omdat het hotel kleinschalig is (slechts 4 kamers). Avondeten is naar lokale normen duur, maar zijn prijs meer dan waard: op het strand tussen de fakkels of aan het zwembad met uitzicht op zee: de kwaliteit van het eten is onwaarschijnlijk goed, net als de sfeer en het kader. Op onze rondreis door Sri Lanka boekten wij 9 luxehotels, dit was met voorsprong het allerbeste! ☹Onze kamer lag achteraan het hotel en was nogal klein. Het comfort was bovendien minder, in vergelijking met het topniveau van de ruimte op het gelijkvloers (zithoek, zwembad en strand).
Exceptional ☺ This is an outstanding hidden gem of a hotel with incredible food. The Sri Lankan breakfast did not disappoint! Absolutely delicious and the best we had on our trip. The evening food was also fantastic – we had a lovely meal on the beach and even got to release lost baby turtles into the ocean. Danuka was the best host / chef and the rest of the staff are really fantastic too: the right balance of attentiveness and privacy. The location is a ~7min TukTuk ride from central Mirissa which meant that you could escape the hustle and bustle of Mirissa to the peace and calm of Three Gables: the only thing you'll hear here is the sound of crashing waves. There are only 4 rooms so it feels quiet and intimate. We were on our honeymoon and we will absolutely be returning! ☹ Nothing
séjour exceptionnel ☺le service, l'emplacement et surtout la nourriture étaient exceptionnelle!